Services
Voiceover API
Just Plug-and-Play the voices you love through your own app or product!
Natural and Authentic
The human voices your customers needed.
Research suggests that revenue increases by 23% when products form emotional connection with users. ​ It's 2023. Your customers deserve more than robotic and monotonous voices from Google or Amazon. Upgrade your service NOW with industry-leading AI voices.
Boost your services with natural and realistic AI voices to create a better user experience.
Perfect for every use case
Applications
Convert The Content On Your Mobile Application To Sound
Dreaming of building the next big thing? A chat app? A social platform? A creative toolkit? An interactive software? A news reader? Don't let searching for a quality voice bog you down. The last thing you want to do is shop around for voiceovers when you should really be developing your product and learning about your audience!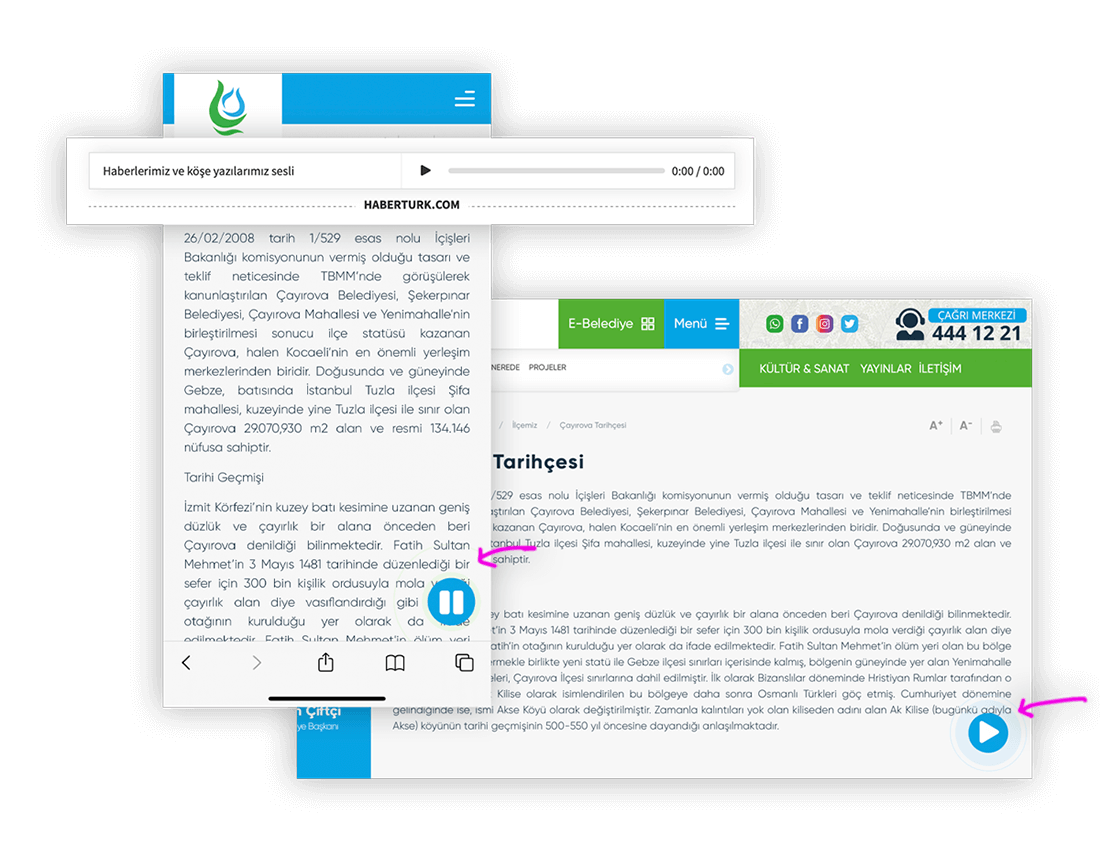 Voiveover for News
Let Your News Become An Audio Article
Let Voiser take over the voice-over department of your news organization.
Game Development
Scalable and Automated Sounds for Your NPCs
The last thing you want to spend time on is searching and paying for voiceovers for tens, if not hundreds, of NPCs for your game. ​ Use LOVO API to breathe life into your characters, while focusing on what matters more: the plot, graphics, gameplay...etc.
Call Centers
Dynamically Updated Sounds for Your Customers
It's a lot of work to manually convert text to speech, download the voice files, migrate to your native environment or a 3rd-party OHM / IVR tool, and wait for the upload to finish. Automate the entire process by integrating LOVO API with your contact center software! ​ Enable your IVR to adapt to individual customers, their requests, and the situation.
DIY Video Makers
Upgrade your video maker with AI Voiceovers
A bulk of your clients will need voiceovers, and they will resort to 3rd party marketplaces like Fiverr to get the job done. ​ Not only is this expensive for your users, it is also time consuming - and for you, it's a loss of customer screentime ​ Make the lives of your users easier, keep them happy and on your platform.
For Developers
Voice REST API
It's easy to integrate our first-class text-to-speech technology with your products. Voiser API service is built on the basis of REST API. This means you can use any of your favorite programming languages to get the job done.
Simple Integration
Our easy-to-use voiceover and transcription API has been designed by expert hands for all developers. We provide you with SDKs, comprehensive documentation and expert support so you can get started in minutes.
Try Integration
Voiser AI offers the right solutions with its advanced technology.
Powerful AI models, simple API
API services enable voice and transcription readings to be performed more effectively and easily. It increases the importance of recognition, vocalization and trancription processes that allow API services to perform any demonstration, voiceover or deciphering operations. Voiser AI offers you the highest results in accuracy, leaving the voiceover and transcription services of the world's technology giants behind. The final accuracy rate of Voiser AI, its unified cultured AI, is up to 99% with a 1.7% error rate. With this achievement, our leading company also succeeds in providing high-quality service while achieving a better accuracy rate than this.
| | |
| --- | --- |
| Human | 100% |
| Voiser | 99% |
| Google | 90% |
| Microsoft | 85% |
| Amozon | 80% |
What is Text to Speech API Service?
Text to Speech API Service
The Text to Speech API service is becoming more and more crucial, particularly with the increasing number of web and mobile applications.
Also, the Text-to-Speech API service is a significant contributor to the growth in voice call usage and its widespread adoption.
The Text-to-Speech Voiser API service offers users several advantages, including facilitating language learning, a simple comprehension of messages and information, facilitating the usage of online and mobile applications, and increasing visitors' attention to websites and other interactive material.
What is Speech to Text API Service?
Speech to Text API Service
The Voiser Speech-to-Text API service is a powerful tool that converts existing speech recordings to text files. Particularly for people employed in the media, entertainment, and communications sectors, Voiser API saves time.
For instance, in order for a radio show to be broadcast, audio may need to be recorded, transcribed, and translated into text files. Here, the use of Voiser Speech-to-Text API makes the conversion of recordings to text files much quicker.
Voiser Text-to-speech and Speech-to-Text API services are crucial piece of technology that helps people save time in a variety of industries.
Join the Growing Voiser AI Revolution
Brand Trusted by Many Businesses
Startups and Individuals
We offer affordable and comprehensive voice-over and transcription solutions to all types of startups, from small to large-scale startups.
Businesses
We are designed for large-scale jobs. Every day, we handle millions of audio files for thousands of clients, including top companies from every sector.
Developers
We offer substantial help to developers through our comprehensive tutorials, exhaustive documentation, and changelog.
Why Voiser AI?
The Voiser API is simple to use and may be tailored to the needs of users. Our text-to-speech and speech-to-text (transcription) API services are easy to use. It is simple to integrate into your application and product. With Voiser, bring your apps to life!
Secure and Reliable
To safeguard users' sensitive data, the Voiser API offers security measures and security controls. By adhering to all security regulations, the API makes sure that the user's personal information is safely protected.
High Accuracy
Voiser AI's Word Error Rate separates it from the competition in terms of race, nationality, gender, and accent.
More languages
With Voiser, Provide users from all around the world with 75+ languages to meet their needs.
Provides the most readable transcripts
Voiser AI transcripts are the most readable, with correct syntax, punctuation, phone numbers, and addresses.
STT and TTS solution
Voiser AI seamlessly provides best-in-class transcription and voice-over services, in order to match the specific quality and cost requirements of your application.
World-Class Safety Standards
With SOC II, HIPAA, GDPR, and PCI compliance, you can achieve the greatest degree of data control and security.
Outstanding performance
With Voiser API, users can swiftly process their requests. The high-performance and secure servers of API enable users to process their requests efficiently and safely.
Talk to an Expert
Get in touch
Our expert team will be happy to assist you.
Success/Error Message Goes Here
Text-to-Speech without the need for expensive studios and equipment.
English, Turkish, Arabic, German, French, Italian, Russian, Chinese, Japanese, Korean ... Convert your texts naturally, fluently and realistically with more than 550 voices in 75+ languages.
Try Free Now